用過的 TRIKON Sigma FxP #9253626 出售
This TRIKON Sigma FxP has been sold.
Check our Similar Products below, use our
Search feature
to find more products available for sale or
contact us
with any questions you might have.
ID#:

9253626
设备详细信息:
Metal deposition systems
Platen HSE MK2, 8" (P/N: TR-133072/B)
TI-Heater assy platen, 8" (P/N: 188855)
No Pumps / Chiller

Configuration:
Hot sputter etch chamber: Station 2 (DepE-HSE)
Station 0: BROOKS M800
Station 1: BROOKS VCE
Station 2: Hot sputter etch (Rack)
Station 3: Hot sputter etch (Rack)
Station 4: Deposition (Rack) TTN
Station 5: Deposition (Rack) TTN
Station 6: Deposition (Rack) ALU
Station 8: BROOKS VCE
Station 9: BROOKS Inliner
Station 10: BROOKS Top cooler
Station 11: BROOKS Buffer

(2) Load locks:
Station 1: VCEA
Station 8: VCEB

(3) Deposition chambers:
Station 3: (DepC- HU platen aluminium)
Station 4: (DepB - HiFill TTN)
Station 5: (DepA - HiFill TTN)

Pre heat chamber: Station 7
Orienter: Station 9 (In front of VCEA)
Top cooler for cooling wafers: Station 10 (In front of VCEB)

LEYBOLD CoolVac 1500 O-Ring sealed
Transport chamber
DC Power supplies for single and double rack
Turbo controller
Main computer
Main AC
RF / DC Power supplies
Chamber AC control
Temperature set point: 20°C
Resistivity set point: > 50 kΩ
Recirculating flow: 20 gpm
Recirculating pressure: 22 psi
BROOKS MAG7 Robot included

Process modules:
DepA
DepB
DepC and DepE

2001 vintage.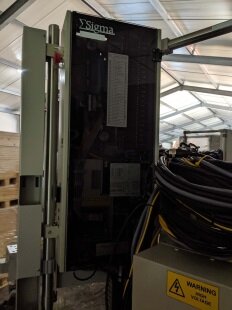 Sold